---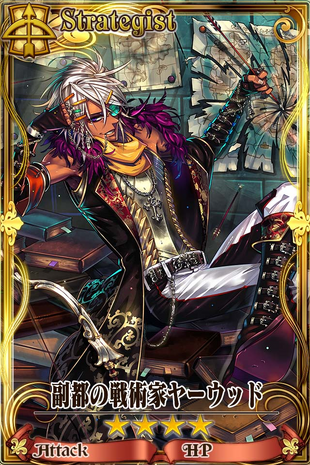 Vice Capital Tactician Yarwood
副都の戦術家ヤーウッド
Rarity
4★
Cost
13
Class
Archer
Weapon
Bow
Growth Rate
Average (750 Base EXP)
Growth Type
Normal
 
Attack
HP
Level 1
1820
1300
Level 50
5340
3150
Level 70
7140
4950
Affiliation
Vice Capital
Job
Strategist
Skills
Skill
Locational Advantage (Mana: 2)
"Now, dig that hole!"
Create an area in front of Yarwood that temporarily prevents movement.


Barrier lasts for 15 seconds.
Abilities
Ability
Ultimate Preparedness
Attack power rises when HP is at 100%.


Attack power increases by 10%.

Art of War
Thanks to special tactics, attack power rises when facing a boss wave. Yarwood's unique ability.


Attack power increases by 5%.

Chain Ability
Tactical Assistance - Cost: 3
Attack power rises and damage taken falls when facing a boss wave.


Attack power increases by 10% and damage taken decreases by 5%.
Profile
| | |
| --- | --- |
| Profile | A young man who founded the Tactician's Guild. Originally of the Ranger's Guild, when participating in a large battle, he was entranced by the depth of the group tactics, and became a tactician. He used to hole up in the library, studying tactics from battles past and dreaming of becoming a squad commander. Now, needing real experience, he joins the Volunteer Army to prove the value of tactics and his own skill. |
| Voice | Jun Fukuyama |
| Illustrator | Kotetsu Kinoshita |
Sounds
Voice Lines
Sample

Unknown
Obtain
Ad blocker interference detected!
Wikia is a free-to-use site that makes money from advertising. We have a modified experience for viewers using ad blockers

Wikia is not accessible if you've made further modifications. Remove the custom ad blocker rule(s) and the page will load as expected.