---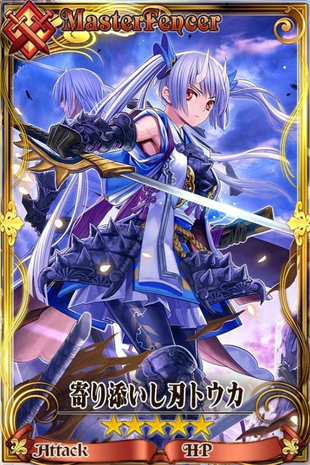 Skills
Skill
Soundless Blade: Snowstorm (Mana: 2)
"With this blade!"
Deal moderate damage to all enemies within dashing range and knock them back.


6x Damage
Abilities
Ability
Sisterly Thoughts - Requires: Sweet Thoughts
◆ Critical hit power rises while in combat.
◆ Deal more damage to dazed enemies.
◆ Restore all allies' HP and temporarily boost their attack power and critical hit rate at the start of each wave.
I must be strong for my older brother.


Critical hits deal 15% more normal damage.
Deal 20% more damage to dazed enemies.
Restore 15% of HP, attack power increases by 10%, and critical hit rate increases by 20% for all allies for 25 seconds each wave.

Summer and Winter - Requires: Ogre Siblings
◆ Attack power and special power temporarily rise and damage taken falls when a warrior ally activates their special.
We've finally experienced the love-hate relationship between true siblings.


Attack power increases by 15%, special power increases by 100%, and damage taken decreases by 20% for 20 seconds when a warrior ally activates their special.

Chain Ability
Will to Live - Cost: 4
◆ Restore all allies' HP at the start of each wave.


Restore 5% of all allies' HP each wave.
Profile
| | |
| --- | --- |
| Profile | Touka finally chose to be together with Haruaki as family. After being released from their cursed fates, she started to explore a new way of life. Knowing that it's now impossible to put her sword down, she has chosen to stay as family with her brother, and as a member of the Volunteer Army. |
| Voice | Ayane Sakura |
| Illustrator | Bunta |
Sounds
Voice Lines
Sample
"Let me show you the answer I've chosen."
Obtain
How to Obtain
Subjugation Battle Support Festival
3-Day Monthly Festival
Ad blocker interference detected!
Wikia is a free-to-use site that makes money from advertising. We have a modified experience for viewers using ad blockers

Wikia is not accessible if you've made further modifications. Remove the custom ad blocker rule(s) and the page will load as expected.