---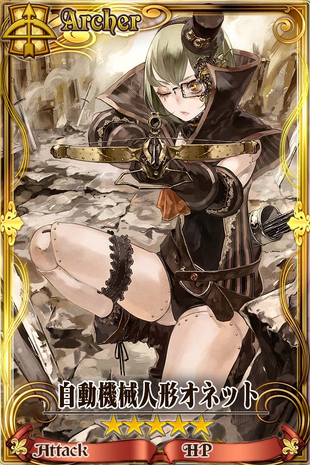 Autonomous Doll Onette
自動機械人形オネット
Rarity
5★
Cost
18
Class
Archer
Weapon
Bow
Growth Rate
Slow (1000 Base EXP)
Growth Type
Normal
 
Attack
HP
Level 1
2860
1380
Level 60
7150
4210
Level 80
9150
6210
Affiliation
Maze Pass
Job
Archer
Skills
Skill
Battlesight (Mana: 1)
"Target sighted, firing!"
Snipe the foe furthest away in your Onette's row, dealing light damage and inflicting blind.


5.5x Damage.
Abilities
Ability
Machinery Maintenance - Requires: Data on Souls
Regulatory functions implanted within the body detect abnormalities and eliminate them. Immune to blind/poison/slow. Onette's unique ability.
Automata Simulation - Requires: The Weeping Heart
Run a simulation of the enemy's movements and determine the best course of action. Boost all archers' attack power and reduce their damage taken, and boost all bow-users' critical hit rate when on the battlefield. Onette's unique ability.


Attack power increases by 10% and damage taken decreases by 10% for all archers. Critical hit rate increases by 12% for all bow-users.
Chain Ability
Mechanical Recovery - Cost: 4
Immune to blind/poison/slow.
Profile
| | |
| --- | --- |
| Profile | A magically constructed golem, built from earth sprite machinery and instilled with a soul by Sage's Tower magic. She is so exquisitely crafted, she looks nigh-identical to a human. To collect data, she hides the fact she is a construct and joins the Volunteer Army. Poor at the natural cadence for expressing oneself, her speech can seem halting, but she claims to be fully human. |
| Voice | Emiri Katō |
| Illustrator | hakus |
Sounds
Voice Lines
Sample

Unknown
Obtain