---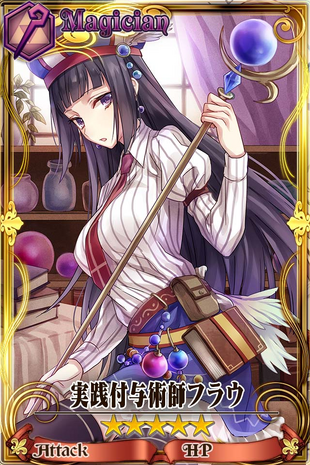 Practical Enchantress Frau
実践付与術師フラウ
Rarity
5★
Cost
16
Class
Magician
Weapon
Magic
Growth Rate
Average (750 Base EXP)
Growth Type
Normal
 
Attack
HP
Level 1
1960
1310
Level 60
5740
3420
Level 80
7740
5420
Affiliation
Vice Capital
Job
Magician
Skills
Skill
Plus Impulse (Mana: 1)
"Convenience is good."
Temporarily boost all allies' attack power.


Attack power increases by 15% for 10 seconds.
Abilities
Ability
Full of Ideas - Requires: Chaotic Magic
While misguided most of the time, her countless ideas influence mana. Mana slots spin at a slower rate. Frau's unique ability.


Reduces mana slots' rotation speed to 1/3rd of normal.

Troubling Magic - Requires: Happiness-Effusing Magic
Dangerous incidents give birth to beneficial inventions. Boost all warriors/knights' attack power and reduce their damage taken when on the battlefield. Frau's unique ability.


Attack power increases by 5% and damage taken decreases by 5% for all warriors/knights.

Chain Ability
Rearguard Support - Cost: 4
Boost all allies' attack power when in the sub-party.


Attack power increases by 3% for all allies.
Profile
| | |
| --- | --- |
| Profile | A mage of the Vice Capital's Magic Guild known for her experience. A master of enhancements, she's made it her life's work to add charms to various things in town to make life and combat easier. However, as she tends to not only improvise but overdo it, she's been labeled as a troublemaker by the town. |
| Voice | Yumi Hara |
| Illustrator | Karu |
Sounds
Voice Lines
Sample

Unknown
Obtain
How to Obtain
Normal/Challenge Recruit
Ad blocker interference detected!
Wikia is a free-to-use site that makes money from advertising. We have a modified experience for viewers using ad blockers

Wikia is not accessible if you've made further modifications. Remove the custom ad blocker rule(s) and the page will load as expected.