---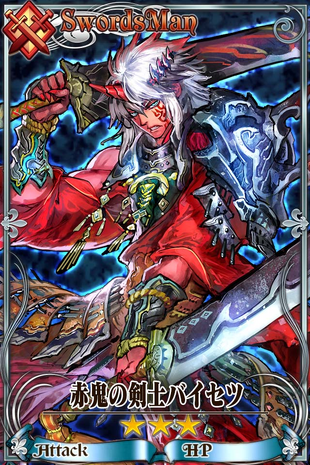 Red Ogre Swordsman Baisetsu
赤鬼の剣士バイセツ
Rarity
3★
Cost
8
Class
Warrior
Weapon
Blade
Growth Rate
Fast (500 Base EXP)
Growth Type
Normal
 
Attack
HP
Level 1
1100
1100
Level 40
4150
3900
Level 60
5750
5500
Affiliation
Vice Capital
Job
Swordsman
Skills
Skill
Bamboo Splitter (Mana: 1)
"Let's do this!"
Deal moderate damage to one enemy in front of Baisetsu.


6x Damage.
Abilities
Ability
Cornered Rat
◆ Attack power rises when HP is 33% or less.


Attack power increases by 30% when HP is 33% or less.

Chain Ability
Forest Sentry - Cost: 2
◆ Attack power rises and damage taken falls when fighting in forests.


Attack power increases by 15% and damage taken decreases by 10% when in forests.
Profile
| | |
| --- | --- |
| Profile | A swordsman from the ogre settlements of the far north, the Nine Territories of Fire. After getting caught up in a clan feud, he is banished from his hometown for killing his kin. While violent and foul-mouthed, he has not forgotten his past, and at heart he feels for his friends. |
| Voice | Junichi Yanagita |
| Illustrator | KeroKeroSaito |
Sounds
Voice Lines
Sample
"Don't overexert yourself!"
Obtain
How to Obtain
All Recruits (After Vice Capital is unlocked)
Ad blocker interference detected!
Wikia is a free-to-use site that makes money from advertising. We have a modified experience for viewers using ad blockers

Wikia is not accessible if you've made further modifications. Remove the custom ad blocker rule(s) and the page will load as expected.